Mountain Jam is about much more than the music! We've got lots of exciting activities and attractions to keep you busy all day (and all night) long!
---
Awareness Village
Join us in the Lodge and visit several of our non-profit partners at Mountain Jam 2017 in our Awareness Village.

AWARENESS VILLAGE
---
Kids Activities
Mountain Jam is fun for all ages! Kids 10 and under are free and we've got LOTS of great activities and entertainment for kids.

VIEW OUR KIDS ACTIVITIES
---
Zip Lines
New York Zipline is located right here on the mountain, designed and built by Canopy Tours. They feature three family-friendly adventures: the SkyRider, Mid Mountain Canopy Tour and the Adventure Tower. As a leader in the industry with over 30 year's experience, Canopy Tours adheres to the strictest safety and construction guidelines in the industry. Learn more at ZiplineNewYork.com.
---
Shelley Parriott's ColorField Sculptures
Mountain Jam is excited to feature A-MAZE-ING Public Art by Shelley Parriott. Parriott describes her work: "We transition through constantly changing patterns and colors – participants experience the sculptural installation from the outside looking in or the inside looking out. The air surrounding us and the spirit within are immersed in vibrant multidimensional configurations … solid to sheer … inviting us to enter into and move through time, space, prismatic tints, and optical illusions."
Color Field Sculpture® Installations and A-MAZE-ING® Public Art are trademarks of Color Field Sculpture, Inc. © 2015 Shelley Parriott & Color Field Sculpture Inc. All Rights Reserved. Visit ColorFieldSculpture.com for more.
---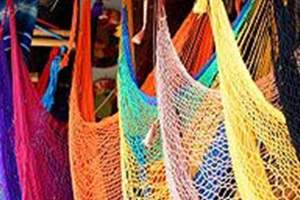 Kids Relaxation Station
Let your kids hang out and relax in the swing of it all while you are still able to enjoy the show standing by! Nestled in the evergreens at the top of the festival field is a small oasis to be enjoyed by families.
---
Yoga with HariPrakaash
Located in the Learning Center
HariPrakaash teaches Kundalini Yoga, meditation and gong. She began her practice 20 years ago in Woodstock, New York. She has been a teacher of Yoga for over a decade. HariPrakaash brought Kundalini Yoga and the "Gong Movement" to the Hudson Valley in a very grass roots way, by teaching out of her living room. She has inspired and guided dozens of people to take KRI teacher trainings and become teachers. Along with inspiring the countless individuals she teaches daily. She holds an International KRI certification in Kundalini Yoga as taught by Yogi Bhajan. HariPrakaash has attended and is certified in dozens of KRI level 1 – 3
trainings. She is also a certified Hatha Yoga teacher. Suggested donations of $10 are accepted.
Friday + Saturday
All Friday and Saturday classes are located in Goldye's in Learning Center.
9:30-10:30 Vinyasa Yoga
11:00-12:30 Kundalini Yoga, Meditation & Gong Immersion
Sunday
10:30 Yoga with Michael Franti (Outside in Dolan's Lake Park, weather permitting)
---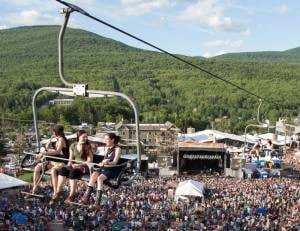 SkyRide
Enjoy a ride up Hunter Mountain for spectacular views. Friday – Sunday 1:00 p.m. – 7:00 p.m. with weather permitting. Purchase tickets on-site at the festival.
---
Mmmassage!
Massage sessions will be available throughout the weekend on the Hillside. Licensed massage therapists will provide your choice of professional-grade sessions to relax your body and mind! Fees do apply.
---
Fire Spinning with Corey White Light
Manipulation of fire, space, and body is what Corey is all about. A passionate performer from day one, Corey brings her light to Mountain Jam to make it an unforgettable experience! Catch the White Light roving through the Campgrounds at night starting at 9:00 p.m. daily!
---
Artist Signings
Artist signings will be held at the Mountain Jam Merchandise Tent, close to the Campground Entrance. Many Mountain Jam artists will be signing merchandise after their sets. There will be a schedule posted daily, and is subject to change.
---
Miss 360
Brianna Mae Clements (Miss 360) is a hula hoop artist, fire dancer, and festival fixture. The Hudson Valley native discovered hooping while attending Mountain Jam IV in 2010. She was enamoured. Since then, her love at first sight relationship with the hoop has matured into a deeply rooted passion and entertainment career that has taken her across the country. Miss 360 has performed for names like American Acrobats, Mac Cosmetics, Holland America, AMEX, Bindlestiff Family Cirkus, Saks 5th Avenue, and appeared in Vanity Fair Magazine. She also teaches hula hoop classes and private lessons for all ages in NYC, Westchester, and the Hudson Valley. This will be Miss 360's 6th year at Mountain Jam.
Bringing two hoops is encouraged, but not mandatory. There will be a limited amount of hoops available to borrow or purchase
Friday in the Learning Center
4:15 p.m. – 5:15 p.m.
All Levels
Learn how to hoop dance from waist hooping and isolations, to break and wedgies, this class will cover a broad specturm of tricks to challenge every skill level.
Saturday in the Learning Center
1:45 p.m. – 2:45 p.m.
Hoop Sequence and Transitions
Learn a series of mesmerizing tricks as you thread them into beautiful sequences. This all levels workshop will help you create seamless transitions between moves opening up flow and creativity.
Sunday in the Learning Center
2:00 p.m. – 3:00 p.m.
Partner Hooping Workshop
Two hoopers are better than one! Bring a friend or fly solo and we'll pair you up. In this workshop you and your partner will master synchronized hooping and create beautiful geometric shapes.
---
Frisbee Golf & Demos
Come play frisbee & disc golf on the mountain with Skot Hanna! Join us Friday, Saturday and Sunday at 12:00 p.m. (noon) each day at Tee #1! Discs are available in the Main Lodge Pro Shop.
---
Dragon Parade: Anna Hafner
Anna is a creature born of and currently living in the Catskill Mountains in upstate New York, and comes from a long line of regional working artists. Anna's work is multi-disciplinary, and focuses on creating whimsical fantasy while questioning different aspects of identity through each piece. She draws design influence from nature and world myths. Her work manifests through illustration, costume/character development, installation, performance art, and happenings. Check out Anna's team during Dragon Parade, made from cryptic dreams, recycled plastics, trash, old clothes and memories. Keep an eye out for them weaving through the crowd on Friday, Saturday and Sunday!
---
Lyrical Signage: Michael Hunt
A veteran of Mountain Jam, Michael Hunt's Cosmic American visual art presents a series of ever-changing and interactive visuals commemorating the universal experience of attending a festival. His Lyrical Signage Art will be displayed throughout the festival grounds.
---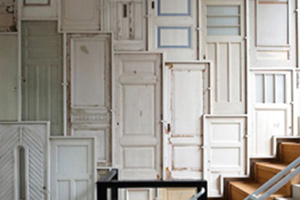 The Zaborski Emporium
Stan the Junkman will haul some of his large warehouse of architectural salvage and unique oddities to Hunter Mountain! Come and peek through the many doors of different eras, and be inspired by the relics of the past!
---
Open Mic Stage in The Lodge
Wanna Jam? Visit the Open Mic Stage for -Keith and Joy's Acoustic Jam- An interactive jam session with open mic. We provide the instruments and you join the jam! Look for us in the Main Lodge behind the Bar. A daily schedule will be posted at the stage. Let's have some fun!